Rain Heads Standard Sizes

Item Code: Rain Heads Standard Sizes

We offer a wide range of rain heads including standard sizes and made to order designs.
Box

With a range of square or splayed designs to choose from, box rain heads are simple and practical. Box rain heads will complement any form of architecture, but they work particularly well on small commercial buildings or on structures with rendered brickwork.
Curved
The smooth flowing, simple lines of the curved rain heads are designed to form a seamless blend with any building. With a classic shape that has a timeless appeal, they will complement both traditional and modern architecture. The understated lines not only exude a sense of quality, they also make the range one of the most economical styles.
Tapered
Tapered rain heads are popular in industrial applications due to their strength and resilience. Their tapered bottom assists in the natural rotation of the entering water, therefore increasing the efficiency of the rain head. The bead around the top of the design helps to strengthen the rain head and protect it from damage during maintenance.
Round / Conical
Create a bold, dramatic statement with the modern curves of the round rain head range. Combined with the use of strong, vivid colours, their design will impart any building with individuality and flair. With several styles to choose from, the range offers a broad selection of geometric designs to complement any form of architecture.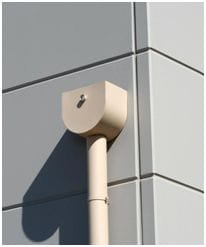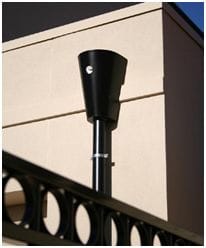 Segmented
Add a touch of class with the prestigious and skilfully made segmented rain heads. Their design works well with ornate and intricate architecture.