Made from high tensile steel for strength and impact resistance, it is ideal for long length industrial uses. Smartspan® can be used in continuous lengths, at low roof pitches with generous support spacings. This can provide a real cost saving on most projects. The 24mm high rib is strong and able to channel water quickly. It has a non-syphoning side lap which reduces the risk of moisture transfer between sheets due to capillary action, thus reducing the risk of roof leakage.
Custom made for your project
Smartspan® sheets longer than 1.2 metres are rolled to the specific length you require, provided the appropriate transport and handling can be arranged.
Design considerations
Smartspan® has a 700mm coverage and the minimum recommended roof pitch is two degrees (1 in 30). Smartspan® is subject to thermal expansion. Darker colours are affected more than light, and spring curved sheeting needs additional consideration. The maximum length before an expansion joint is needed is 24 metres for light colours, and 16 metres for dark colours. For spring curved sheeting it is 20 metres for light colours and 16 metres for dark colours.
Spring Curving
Smartspan® may be spring curved using purlins at a maximum spacing of 1200mm for .42mm BMT and 1400mm for .48mm BMT. The curve must have a minimum radius of 20m for .42mm and .48mm BMT. The maximum radius is 60m to allow for sufficient drainage over a crest. The side laps must be sealed wherever the roof pitch is less than the recommended minimum.
Profile


Material Specifications


Spans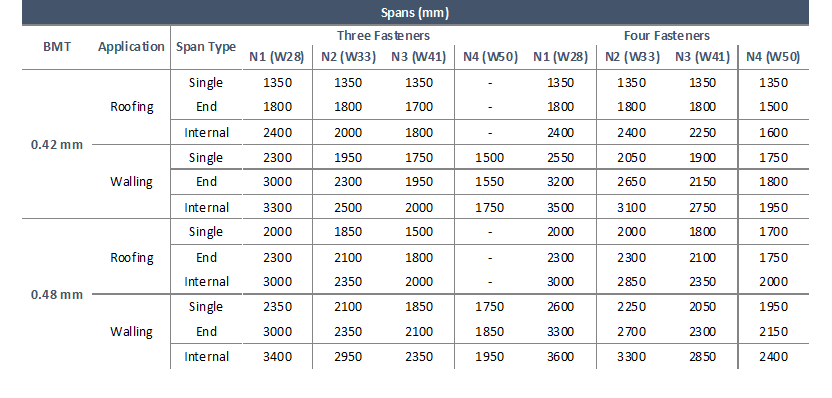 The values are for use with steel supports with a minimum thickness of 0.75mm, G550.