Article #1 Choosing a metal roof – everything you need to know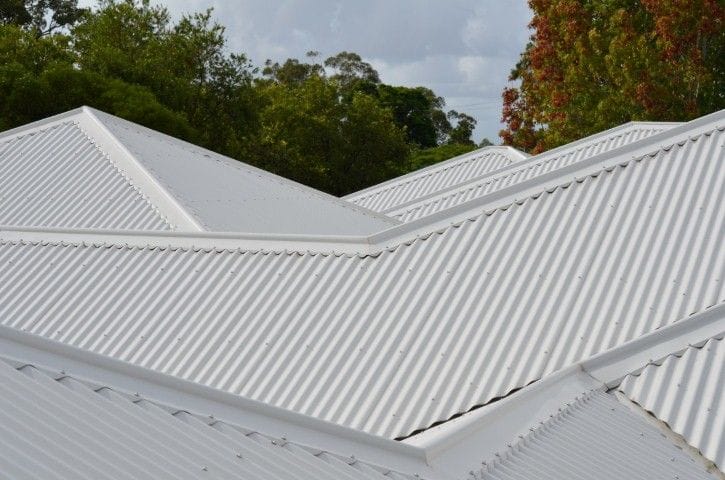 Installing or replacing a metal roof makes perfect sense. Strong and energy smart, metal roofs look great and deliver outstanding, long life performance. Available in a wide range of colours and profiles, metal roofs suit virtually any housing style and complement any building material.
However, choosing the right product is critical. Poor selection can have serious consequences on performance, the finished look and on your back pocket.
Understanding the factors that influence a good result will help you to make the best selection.
Selecting the best profile
Finding a profile that appeals to you is only one consideration. Selecting a profile that is suitable for the pitch of your roof is fundamental for long term performance.
As a rule of thumb, the lower the roof pitch the bigger the profile. For example, for standard corrugated roof sheeting you require a minimum roof pitch of 5°. For an almost flat roof with a 1° pitch, Topdek®, Cliplock® or Prodek® are better options. If you have a 2° pitch, Trimdeck® or Monoclad® will also work. Following these guidelines will ensure water runs properly off your roof and it remains leak free
Selecting the colour
The roof is one of the largest fixed elements of a home and deciding its colour can be a challenging process for any home owner or renovator. The profile and pitch of the roof, as well as the location of the house, should all be considered when choosing its colour as it may play a substantial role in the overall look of the home. The chosen roof style also affects the general impression of a home, for example, a steep gabled roof will have more aesthetic dominance than a skillion roof.
Janne Petrie, from The Colour Designers, explains: "In situations where the roof is a dominant feature of the home, it is important to ensure that the colour does not over shadow the entire aesthetic of the building so it's best to opt for a mid-tone colour. In these cases, roofing made from COLORBOND® steel in the more neutral colours of Surfmist®, Woodland Grey®, Dune® or Ironstone® are ideal choices."
The second consideration when choosing the colour of the roof is the location of the home and its surrounding natural and built environments.
Janne Petrie advises: "If the home is located in a rural area that is surrounded by a bush or green landscape then muted tones are the best colour choices. Roofing made from COLORBOND® steel in colours such as the muted greens of Bushland®, Wilderness®, Pale Eucalypt® or the subdued brown of Jasper® are most suitable.
For homes in a coastal environment, it's best to capture the seaside ambiance. Roofing made from COLORBOND® steel in subdued blues such as Evening Haze® or Windspray®, more arresting blues such as Deep Ocean®, or even the sandy qualities of Sandbank® are particularly effective.
For inner city areas where heritage buildings are the norm, more traditional roof colours are required such Manor Red® or Headland®.
If the home is situated in a more modern suburban area then a more striking roof colour may be the best option with roofing made from COLORBOND® steel in the colour Monument® or Loft® creating a prominent yet appealing feature."
Once the roof colour has been chosen a simple tip to ensure that it works effectively with the rest of the home is to repeat the same colour in smaller amounts around the property in up to three different locations. This includes using the same colour for the mailbox, garden shed or even the fence. By triangulating the colour, particularly at the front of the property, it will give the home a balanced feel.
View the COLORBOND® colour chart.
Thanks to COLORBOND® for this information. More information on colour selection can be found on the COLORBOND® website.
Options beyond COLORBOND® colours.
Whilst COLORBOND® colours are certainly popular, there are other options for metal roofs. Classic Zincalume® suits many housing styles, and galvanised steel and copper can be used too. At Sheetmetal Solutions we can help with any metal roofing product. Give us a call and we will be happy to help.
Ensuring a perfect fit
It may sound obvious, but it is vitally important to accurately measure your roof. Metal roofing is sold in sheets however we can also cut it to meet your exact specifications.
Here are some tips to ensure you order exactly what you need:
Start by drawing a picture of your roof as if you were looking down on it. The sketch below is a good example.
Write down the measurement each line represents. It is not important to draw to scale, however it is important the measurements are accurate.
If measuring a pre-existing roof, measure from the apex to the end of the sheeting in to the gutter. In most cases this will be 50mm.
If you are working on a new roof, you will need to work out the overhang past the end of the rafters, over the fascia and into the gutter.
Consider off-cut placement to avoid wastage.
If you need help with measuring your roof please contact us.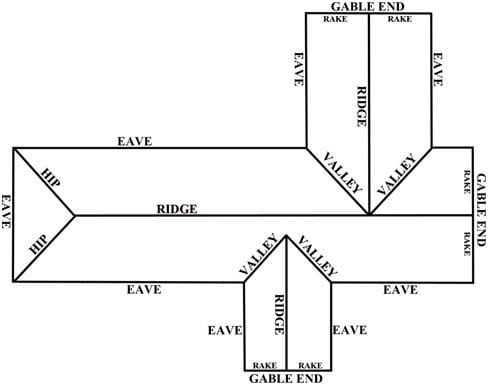 The right accessories make a difference
There is nothing worse than finding yourself on a roof without the accessories you need to finish the job.
Below is a list of what you may need:
Fasteners / Screws
Finish the job with the right fasteners. Choose from screws to fix timber or steel, with or without seals, for crest or pan fixing. We can supply wafer head screws, batten fixing screws, tapping screws, rivets, bolts, coach screws and polycarbonate fasteners, all in varying sizes for each job. Refer to Roofing Sheets and Accessories for more information on screws.
Ventridge
Ventridge provides continuous natural ventilation with effective weather protection under normal weather conditions. It is designed to effectively remove heat, smoke and fumes on an ongoing basis from factories and industrial buildings. It also blends in with a range of building styles due to its low profile.
Ridge
Two styles of ridge capping are available. Roll type ridge is a traditional style of ridge cap commonly found on corrugated steel roofs. Three-band ridge capping is used for square-ribbed style roofs.
Barge
We offer several different styles of Barge Capping to complete the edge of your roofing. Square Barges provide a neat finish and can be ordered in a variety of sizes to fit any style of roof sheeting. Gable Roll barges have a curved edge that creates a traditional form that blends beautifully with corrugated sheeting.
Valley Gutter
We provide Valley Gutter in galvanised, zinc/alum or a full range of roofing colours, to a length that will suit your requirements. Valley Gutter is available in 400mm and 450mm girth.
Flue Caps
Flue Caps can prevent birds, water and smoky smells from entering the building through the flue. Smoky smells are prevented by keeping rain from coming down the flue and mixing with the creosote inside the chimney. Galvanised, zinc/alum and a full range of roofing colours are available.