Article #3 Gutter Guard – do you really need it?
People have different views on the merits of installing gutter guard (also known as gutter meh). Here's what we think: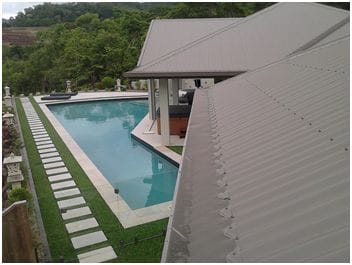 If your home is surrounded by trees it's very likely that installing gutter mesh will save you money in the long term. Rotting leaves and debris in gutters may eventually cause water to overflow into your home causing flooding and damage, and will speed up the deterioration of your gutters.

Cleaning out gutters is dangerous. Reducing the need to climb onto your roof is always going to be a good idea.

Gutter mesh stops pests and rodents from entering the roof cavity. Getting rid of them once they've made themselves at home is tough.

If you collect rainwater for drinking, gutter mesh will improve water quality by preventing leaves and debris from breaking down in the gutter.

If you live in a bushfire-prone area, installing non-combustible gutter mesh offers the best prevention against ember attack, the major cause of home loss in any bushfire. Installing steel or aluminum gutter mesh of a 2mm aperture or less (or other acceptable material) is actually a requirement in most states if your home is in a designated bushfire-prone area – check out AS3949-2009/Amdt 2011.
Of course, if you are going to install gutter mesh, it makes sense to do this at the same time as any other roof or guttering work. With new homes in particular, you will save lots by taking advantage of existing scaffolding.