Article #2 Polycarbonate Roofing which one is right for you?
Polycarbonate roofing is a versatile material that is suitable for a variety of projects around the home.
Lightweight, exceedingly tough and resistant to ultraviolet rays, polycarbonate roofing makes an attractive construction material for decks, awnings, pergolas and greenhouses.

Understanding the similarities and differences between the different polycarbonate roofing products on the market will ensure you select the best product for your project. Here are the key ones you are likely to come across:
Standard Polycarbonate Roofing
An affordable and effective sheeting with multipurpose uses for both domestic and industrial applications. We utilise a number of suppliers Ampelite, Palram and Suntuf.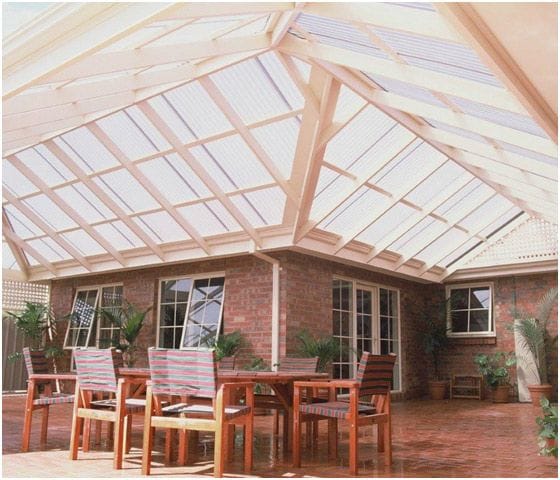 Image: Suntuf® Polycarbonate Roofing
Heat Resistant Polycarbonate Roofing
Premium polycarbonate sheeting that allows maximum light whilst stopping harmful UV rays and "near infra-red" heat radiation.
Twinwall Sheeting
Twinwall sheeting combines the strength of polycarbonate with superior insulation due to its cellular structure. This provides more light with less heat and double sided UV protection, providing 99.9% protection of harmful UV and impact resistance 250 times that of glass.
This material is appropriate for both commercial and domestic structures such as pergolas, walkways, facades, skylights etc.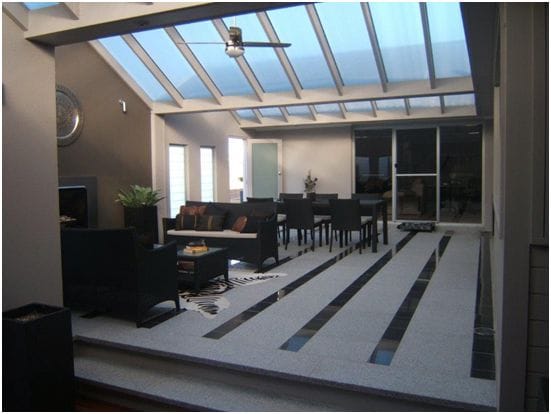 Image: Twin Wall Polycarbonate Roofing
Multiwall Polycarbonate Roofing
Multiwall polycarbonate glazing systems provide outstanding flexibility in design and advanced heat reflecting and light transmitting performance. An advanced construction of internal walls and chambers gives excellent insulation properties and impact strength 250 times that of glass. Both sides of the sheet have a co-extruded UV barrier which provides protection from 99.9% of harmful UV radiation, giving superior resistance to outdoor weathering. Multiwall systems ensure high impact strength, clarity and excellent weather resistance.
Multiwall sheeting is appropriate for long-term applications such as architectural roofing and glazing, commercial and retail roofing, translucent roofing in sporting facilities and service stations, covered walkways, awnings and entrances, parking structures and swimming pool covers.
Note that Multiwall Polycarbonate Roofing is available in a kit that includes a framing system that allows for wider spans with less structural support.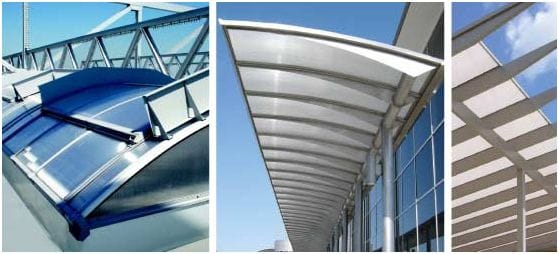 Images: Multiwall Polycarbonate Roofing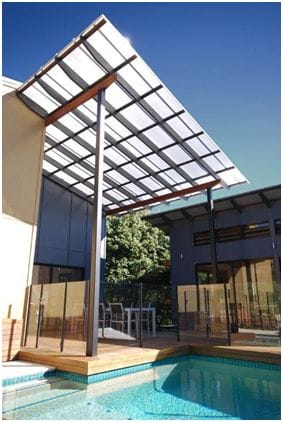 Image: Polycarbonate Roofing
An important note on Polycarbonate Roofing Accessories:
Installation of polycarbonate roofing requires special self-drilling poly-zips screws with weather-soft washes. These screws come in two sizes: 50mm for corrugated and 65mm for Greca, Trimdek® and Superdeck®. We provide all the screws and accessories you will need.