Roofing Sheet Accessories in Gold Coast
A complete range of accessories are available to complement your new roof.
Screws / Fasteners
Finish the job with the right fasteners. Choose from screws to fix timber or steel, with or without seals, for crest or pan fixing. We can supply wafer head screws, batten fixing screws, tapping screws, rivets, bolts, coach screws and polycarbonate fasteners, all in varying sizes for each job.
Roof Zips®
Available in 25mm, 50mm and 65mm lengths and as cyclone assemblies, RoofZips® continues to be the fastener solution which takes the fastening of steel roof sheeting into a whole new dimension.
Faster to install – saving time and money.
Easier to use, requiring less end load pressure.
Can be drilled on steep sloping roofs or near the edge of sheeting.
Reduces the amount of swarf.
Will not cause skidding of the roof profile.
Has multiple product applications of fixing to timber battens, steel purlins up to 1.9mm thick and thin metal battens.
Reduces damage to the washer – eliminating water entry.
Designed, developed and proudly manufactured in Australia.
Fully covered by the Buildex® warranty.
Includes the Buildex® features HiGrip® and Shankguard®.
Climaseal® 4 coating which meets AS3566 Class 4. (Now available in Climaseal® 5)

Type 17's

Self-drilling screws for fixing into timber and thin steel thicknesses up to 0.75mm battens.
The thread on a Type 17 is parallel for constant clamp load.
The drill point is sharp pointed and drills the timber to a pulp consistency.
The special end slot forms a thread cutting action into the timber. The timber it cuts becomes pulp like sawdust, which is distributed evenly into the open cell structure in the timber. This becomes stabilised by the frictional heat generated while cutting, eliminating timber expansion and minimising the splitting of timber.
Minimum Embedment Into Timber
The minimum amount of embedment that must be screwed into the timber is important in order to achieve the required pull-out loads from the timber. The pull-out load will also vary according to the grade of timber (softwood Vs. hardwood).

Gauge Minimum Embedment Exceptions

6g 16mm

8g 18mm

10g 25mm 10g x 25mm = 23mm

12g 30mm 12g x 25mm = 23mm

14g 35mm 14g x 25mm = 23mm
Metal Teks®
Self-Drilling Screws with a hardened drill point that will drill and thread in structural steel and mild steel. These Teks points are designed in a manner much the same as high speed steel drill bits.
To choose the correct fastener, it is necessary to select one where the length of the drill point is equal to or greater than the total thickness of the material to be drilled including the air-gap. If the drill point is less than the total thickness of the material and the thread engages, then the fastener can break or became impossible to drive.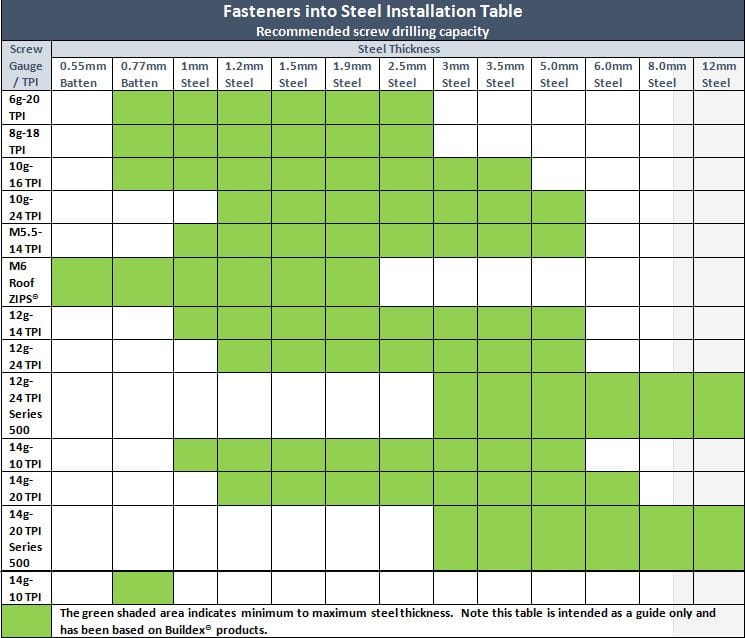 Poly Zips®
Used for fixing polycarbonate roofing to timber and thin metal battens.

Features
Predrills its own expansion hole.
Save up to 50% installation time!
Wing design drills an oversized hole into the polycarbonate material.

Fibreglass Teks®
Used for fixing fibreglass sheeting to sheet purlins.

Features
Predrills its own expansion hole.
Save up to 50% installation time!
New Teks® drill point for fast and easy fastening into steel purlins from 1.2mm to 5mm thick (2.4mm lapped battens).
Wing design drills an oversized hole into the fibreglass material

Rivets
Provide an effective and an economical alternative to other, more costly methods of fastening, because one size handles the grip range capacity of up to 3 standard open end rivets.
They can clamp a wide range of material thicknesses, reduce inventory requirements, provide superior clamping and high strength, have high vibration resistance and completely fill the hole during riveting.
Rivets are available in Bulk packs and Clamshell packs and head painted in the full range of COLORBOND® colours.

Technical Specifications


*Coloured Rivets available upon request, minimum quantity will apply. All values are averages, appropriate safety factors should be considered.

Ventridge
Ventridge provides continuous natural ventilation with effective weather protection under normal weather conditions. It is designed to effectively remove heat, smoke and fumes on an ongoing basis from factories and industrial buildings. It also blends in with a range of building styles due to its low profile.
Ridge
Two styles of ridge capping are available. Roll type ridge is a traditional style of ridge cap commonly found on corrugated steel roofs. Three-band ridge capping is used for square-ribbed style roofs.
Barge
We offer several different styles of Barge Capping to complete the edge of your roofing. Square Barges provide a neat finish and can be ordered in a variety of sizes to fit any style of roof sheeting. Gable Roll barges have a curved edge that creates a traditional form that blends beautifully with corrugated sheeting.
Valley Gutter
We provide Valley Gutter in galvanised, zinc/alum or a full range of roofing colours, to a length that will suit your requirements. Valley Gutter is available in 400mm and 450mm girth.
Flue Caps
Flue Caps can prevent birds, water and smoky smells from entering the building through the flue. Smoky smells are prevented by keeping rain from coming down the flue and mixing with the creosote inside the chimney. Galvanised, zinc/alum and a full range of roofing colours are available.
Silicons
Silicone sealants are designed to be used to seal out water such as around roofs, gutters, flashings and vents and inside the home around bath tubs, shower screen and kitchen and laundry sinks. We provide a range of silicons to meet any need.
Foam Filler Strips
Foam filer strips are available to match the top and bottom profile of a wide range of sheet profiles.
When sandwiched between the eaves support and underside of the roof sheeting (as an eaves closure) a bottom profile strip protects against dust, insects, birds, rodents and wind driven rain. Insertion of the strip between the roof sheeting and hip or ridge flashing will also prevent wind driven rain from penetrating the roof cavity.
Note we don't recommend use of filler strips in situations that may encounter excessive condensation such as water reservoir roofing.
Sheetmetal Solutions has a wide range of roofing products available to suit your home or business. See the different brands and types of roofing sheet metals that we use below. The team at Sheetmetal Solutions are roofing experts on the Gold Coast so feel free to call us for more information about our services.