Article #6 Walking & standing on roofs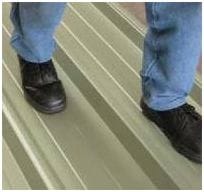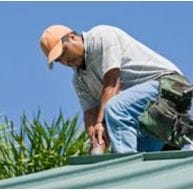 Not all roofs are designed to be walked on.
Metal roofs are usually OK however sometimes they are designed to be "non-trafficable" (meaning they're not designed to be walked on). This should be noted on designs and plans however it is a good idea to check first. You should also take into account the manufacturer's recommendations about where to place your feet on the profile to prevent deformation.
Plastic or polycarbonate roofing is usually considered non-trafficable. When it is necessary to walk on plastic sheets, you need to provide roof ladders or walk boards as a temporary crossing.
Regardless of the roof type, walking on a roof can be dangerous. If it is necessary here are some things to do to make it easier and safer.
Get safe access to the roof. Some roofs have built in access ladders, but for other roofs, you will need a sturdy ladder tall enough to reach 3 feet above the roof-line where you will access the roof.

Tie off your ladder if you use one. Set it up so it is leaning against a gable end or eave with the bottom far enough out and on firm ground so it is stable.

Choose shoes that will grip the roof surface. Tennis shoes or rubber soled shoes should give you good traction on metal roofing materials.

Use a safety harness and lanyard for steep, high, or slippery roofs. If no tie-off point is available, leave roof walking to experienced professionals
.
Stay away from roof edges, and especially, avoid leaning over the edge, as some people become dizzy or suffer vertigo when doing so. Leaning over the edge is not the time to find out you do.

Avoid walking on composite roofs like shingled roofs, or tar built up roofs in very hot, sunny weather. Also, avoid walking on any roofs that have frost on them.

Make sure you do not go on a roof without a spotter or someone to contact help if you fall. Even minor injuries can have dire effects if there is no one to help you.